News
April 2022 Newsletter #22
CWA Local 3509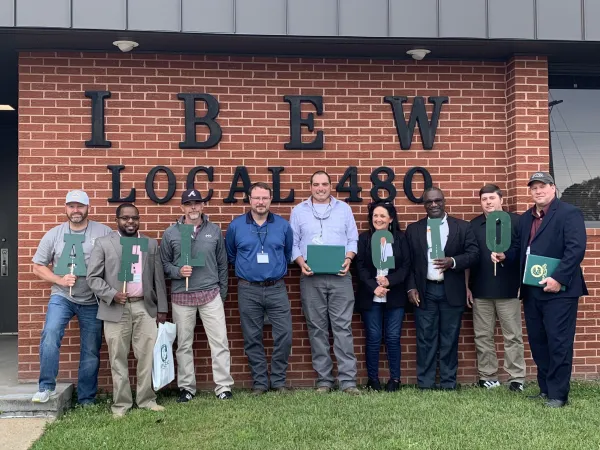 MS AFL-CIO Newsletter
The Mississippi AFL-CIO State Meeting was graciously hosted by IBEW Local 480 in Jackson Mississippi in late March.  Attending the meeting and helping to elect new Executive Board Committee member Michael Hodges, President Local 3509 in Hattiesburg, and bringing CWA's representation with the MS AFL-CIO to three, were members of the Mississippi Legislative Political Team pictured above.
Pictured from left to right are:  Derek Hicks, Meridian Local 3504 Vice President and LPAT Coordinator;  Morice Conard, Greenwood Local 3510 LPAT Coordinator; Robert Johnston, Columbus Local 3504 President; Jonathan Taylor, Tupelo Local 3517 Vice President; Josh Kennedy, Gulf Coast Local 3519 Vice President and LPAT Coordinator; Bonnie Hester, Hattiesburg Local 3509 Assistant LPAT Coordinator; Sedgerick Lee, Hattiesburg Local 3509 Lead LPAT Coordinator; Herman Junkin, CWA MS State Representative; Michael Hodges, Hattiesburg Local 3509 President and State of Mississippi LPAT Coordinator.
The Mississippi Legislative Political Action Team works in coordination with Mississippi Local Union Presidents, their Executive Boards and State Representative, Herman Junkin, to strengthen their members understanding of the importance of labor friendly laws.
By providing information to members on which lawmakers propose and support labor legislation, the Team fulfills the promises of its mission statement:
"To involve the members of Communications Workers of America in Mississippi by developing a team comprised of members from each Local in the state.  To meet with and encourage participation in all elections with the goal of improving wages and working conditions of working people including our union brothers and sisters regardless of any candidate's political affiliation." 
CWA Mississippi Locals are looking forward to an exciting and productive year working with the AFL-CIO in this state.
_________________________________________________________________________________________________
Local 3263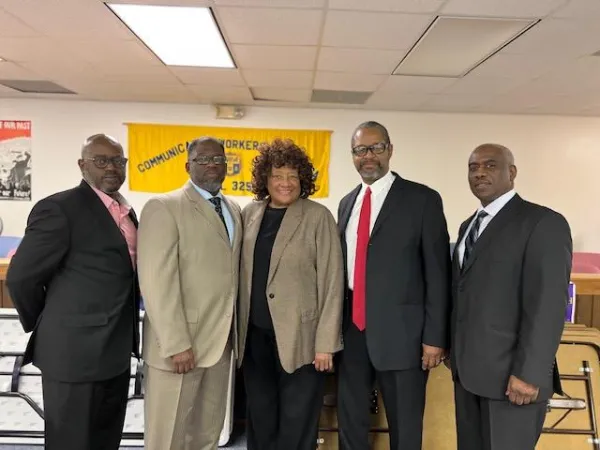 Local 3263 Local Bargaining committee.
from left to right 
Isa Shabazz Staff Representative, Duane More Executive consultant, Elma Bryant secretary, Isaac Coleman President, and Jeff Bayone treasurer
The Union bargains with OFS Fitel in Norcross, GA
______________________________________________________________________________________________
Local 3204
President Ed Barlow & Senator Raphael Warnock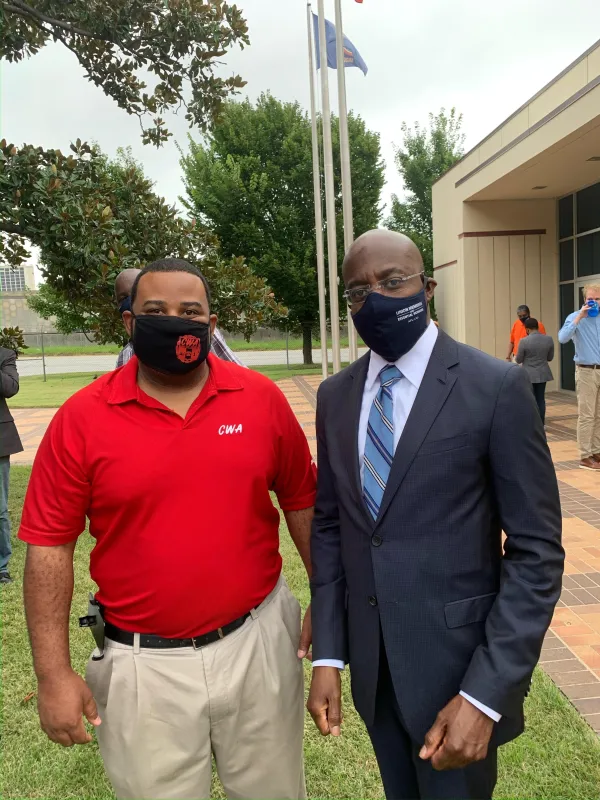 Local 3204 Legislative Committee along with RMC 30901 President Rita Scott, has been extremely active and busy. We are currently screening candidates who are running for office within the state of Georgia. We are screening for State School Superintendent, Congressional races, House races, Public Service Commissioner, Labor Commissioner, City of Stone Crest Mayor, and State Attorney General to name a few.  Local 3204 endorsed Stacy Abrams for Governor and Rev. Raphael Warnock for Senate.  Local 3204 President, Ed Barlow spoke during a press  conference endorsing Stacy Abram on behalf of CWA. 
VP Karen Nagjee, Stacy Abrams, President Ed Barlow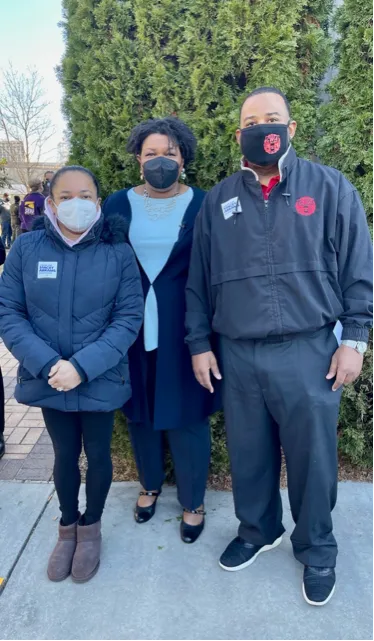 Local 3204 is partnering with GA State University with the planning of the 2022 Georgia Labor Management Conference. AT&T representative will be in attendance this year as we continue to build working relationships between Labor Unions and Management across the State of Georgia. 
We are gearing up early for AT&T Mobility bargaining. We will soon be distributing bargaining suggestions to our Mobility members, holding classes to educate our members on bargaining, mobilization, and ensuring our members know how to stay involved and get information as it relates to bargaining. 
We are also working hard to organize our non-members. Local 3204 members receive $25 for each non-member they sign up. This has been a great tool for the Local to help with organizing. 
Local 3204 Organizer Shelia Sawyer-Reed and President Ed Barlow, is working with District 3 Organizing Coordinator Cassie Watters on an organizing campaign for Apple retail employees in Atlanta. On April 20, 2022 Apple employees organizing with CWA Local 3204 filed a petition with the NLRB requesting an election. Local 3204 is proud to be leading the charge to have the first group of Apple employees to file for recognition. Apple has already begun deploying union busting tactics. We will continue to organize, mobilize and educate our soon to be members on what more to expect during this campaign. We are so proud of the Apple employees for standing up against their employers, and moving forward to have a voice at work by way of CWA.
2023 CBA Liberty PR. Bargaining Report #13
2023 CBA Liberty PR. Bargaining Report #10
2023 CWA DirecTV D3-Puerto Rico Tentative Agreement Highlights